What is a mandala?
Loosely translated from sanskrit, the word mandala means "circle". It represents the wholeness of our infinite universe, both outward and inward. On a grand scale, think of the Earth, Sun, and Moon. On a more intimate scale, a mandala could be comprised of your family circle, your friend circle, or your community. Visually, it's a series of images or graphic patterns organized around a unifying center.
The very center graphic/image of the mandala is called the seed. This is where the activity begins. You set your intention with the seed, and everything grows from there. A metaphor for life, right?
In the mandala activity that follows, the seed can be "planted" by any of your family members and can be anything you want it to be. If there is a holiday coming up you could use a heart, shamrock, snowflake, or any other symbol to represent the season. Is there a new baby coming home? Are you moving? Are you celebrating something? I chose to start with a flower as our seed, to symbolize the beginning of Spring.
Mandalas are great tools for mindfulness. By stopping to participate in the mandala, you are forcing your busy mind to take a break and allowing the creative mind to play. As you may know by now, we are all about play here at Backyard Yoga!
Creating a group mandala is a unifying experience, where each family member has the opportunity to express themselves within a given structure. Mandalas are meant to be healing and to provide insights into ourselves or, in this case, our families.
So lets get started. The most important thing to remember is that there are no set rules. Let your family do whatever feels right for them. Follow your intuition and let your heart be your guide.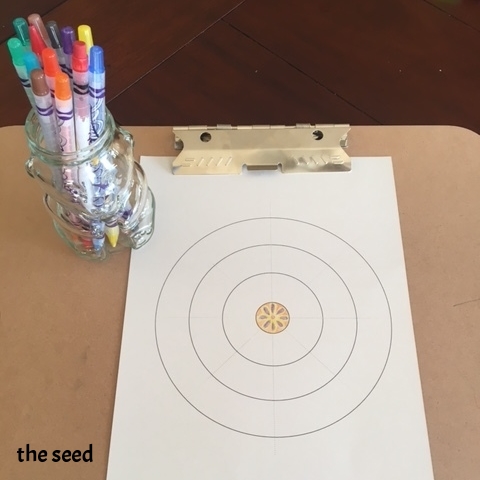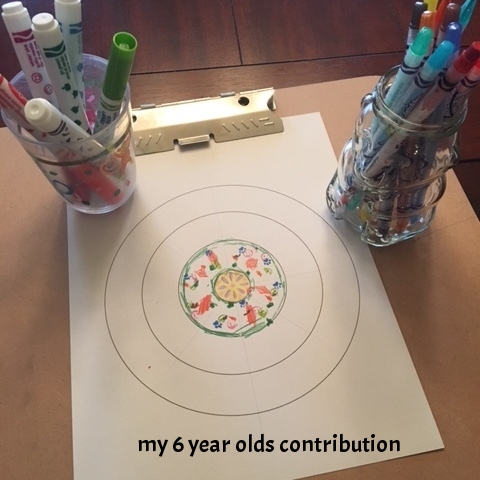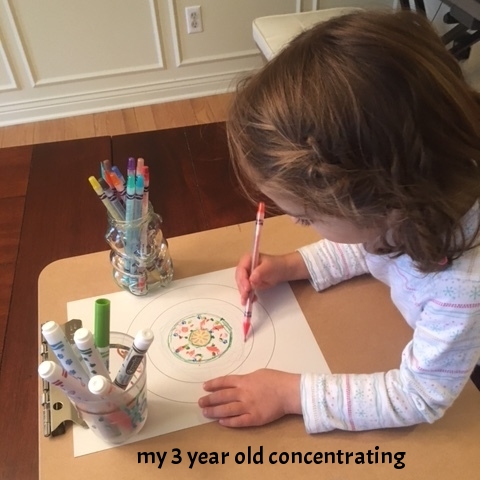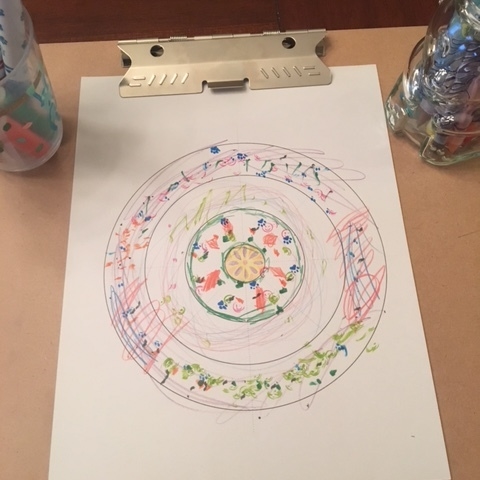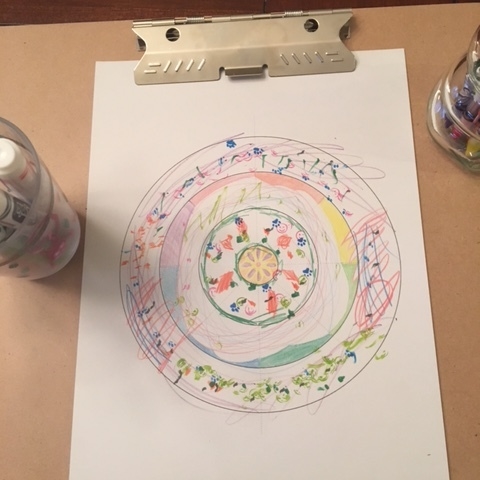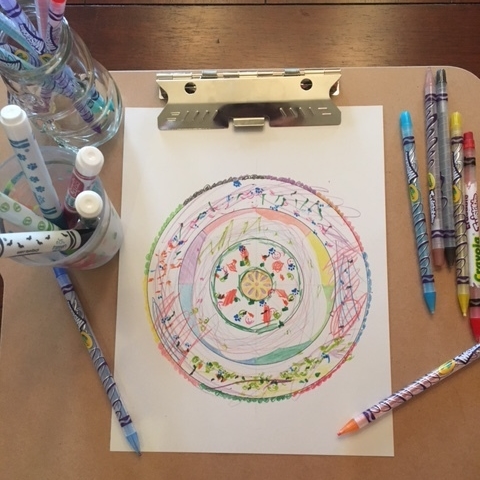 The supplies are simple:
paper
pens/pencils
markers/crayons
compass to create the circle (or use the template below)
Once you've gathered your supplies, follow these steps:
Create or print the template.
Pick a common place to keep the mandala and make sure that drawing utensils are always available.
Set the intention for the mandala by placing your seed drawing in the center.
Allow time for each family member to add their ring.
Rotate throughout the family until the outer ring is complete.
Sit together and review the mandala. What insights come up?
Put it on display.
If you are not up for creating your own mandala, you may wish to enjoy the pre-drawn mandala color sheet below with your little ones. Coloring in mandalas is a great meditative tool, and the intricate designs are meant to have an almost hypnotic quality as you work with them.
For some added fun, here is a list of the most commonly-used colors and their meanings. You can pre-select colors from this list that align with your intention, or refer to the list after the mandala is complete to see what intuitively came up.
RED for strength, high energy, and passion
PINK for love, intuition, and the feminine
ORANGE for creativity, transformation, self-awareness, and intuition
YELLOW for learning, wisdom, laughter, and happiness
GREEN for physical healing, psychic ability, love of nature, and caring
BLUE for emotional healing, inner peace, and meditation
PURPLE for all things spiritual
WHITE for spiritual focus
BLACK for mystery, deep thinking, and individuality
I really enjoy participating in these types of progressive drawings, where each person can contribute at their own pace and on their own time. It's a great tool to connect with the family.
Peace + Play
Erica