One of my favorite aspects of Spring is waking to the sound of the birds as they return home after a long winter. In order to welcome these feathered friends back from their southern adventures, our family recently hosted a nesting ball activity.
What is a nesting ball? It's a "ball" that you fill with nesting materials for the birds. Once finished, you hang it in your yard so that the birds can use these goodies as they build their nests. Nesting balls can be purchased at local bird supply shops, but making your own can be a quick and fun activity to do with your kids and their friends.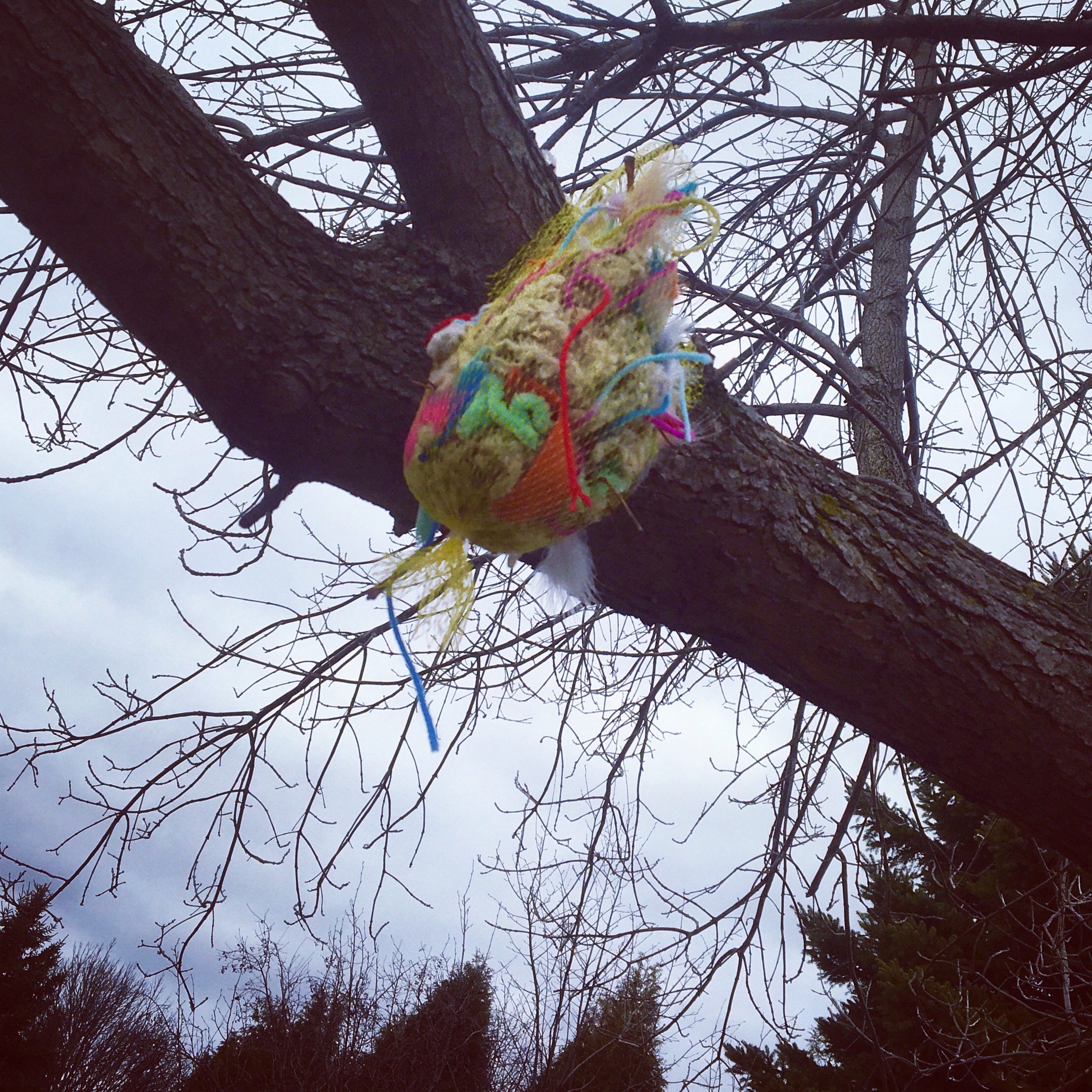 To get started, you will first need to gather any number of the following materials:
netted produce bags
yarn cut into manageable bird-sized lengths (Bright colors make it easier to spot the material in nests later in the season.)
dryer lint and/or nesting fibers that can be purchased from your local bird supply shop or Amazon
dog hair (We did not have any, but apparently the birds love it.)
feathers--real or fake (again, bright colors encouraged)
felt (We read that felt was a great option for birds, but even the adults had a hard time cutting it to size, so personally I would skip this.)
twigs
twine
scissors
Putting it all together:
Begin filling a netted produce bag with the materials you have gathered.
Keep in mind that a little bird will be carrying the items away, so be sure to keep yarn and stick sizes small enough for the birds to handle.
Pull some of the materials through the holes in the bag to make them easier for our little feathered friends to grab.
You may want to cut the netted bag a little bit to allow for larger openings and easier access.
Once you are happy with the contents of your "ball", tie up the top with yarn or twine.
Hang your nesting ball from a tree and observe.
Our family enjoys checking on the nesting ball daily to see what the birds have used. The girls are also on the lookout for any nests using our brightly-colored yarn and feathers.
I hope you get a chance to enjoy this activity with your family and friends. If you don't have the opportunity to make a nesting ball yourselves, keep in mind that there are some really cute pre-made ones on the market. Explore your local shops. I'll even post some options from Amazon in the sidebar. Then sit back and watch as the birds work their Springtime magic.
Welcome home to the backyard birds!
Peace + Play, erica